Although slowed by Sotos syndrome since birth, USC student Andrew St. Clair has worked hard to earn his
DREAM DEGREE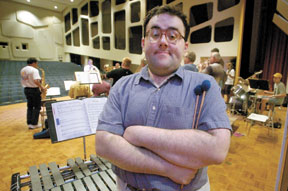 Chieftain photos/John Jaques
Andrew St. Clair, 27, will graduate from the University of Southern Colorado on Saturday with a degree in music performance. St. Clair, a talented percussionist who performs with the USC Jazz Ensemble and the Pueblo Symphony, has Sotos syndrome, a rare genetic condition that causes developmental delays.
By SCOTT SMITH
The Pueblo Chieftain
He'll be easy to spot when the University of Southern Colorado's class of 2003 graduates on Saturday. Just look for the big guy with the white cord on his gown and the can-you-believe-this-is-happening? smile on his face. The special cord color is because he's been chosen by the school to serve as one of 12 marshals at the ceremony. And the smile? That's because finally, after eight years of class work, Andrew St. Clair is going to graduate.

For the 27-year-old St. Clair, who was born with Sotos syndrome - a rare genetic disorder that causes assorted developmental delays - it will be a day of singular triumph. A day when he'll stride across the stage, accept his hard-earned diploma for completing a bachelor's degree in music performance and stand tall as the poster person for what can be accomplished with perseverance, pride and parental support.

It has not been an easy path for St. Clair, who is thought to be only the third person in the world to graduate from college while coping with the multiple effects of Sotos, a condition that has been his constant companion since birth. But the soft-spoken young man has trudged through challenge after challenge - learning disabilities, delayed social development, impaired motor skills and the inescapable frustration that comes from knowing that you're different - to achieve his personal goal.

"I wanted to complete my education," he says, carefully enunciating the words. "I wanted to go to college."

St. Clair admits to being discouraged at times during his long tenure at USC. The work was hard - too hard to complete, it seemed sometimes - especially the core-curriculum courses, the non-music courses. But the key to success was always close and familiar.

"Simple," he says. "Parents. My family helped me through my darkest times."

"We decided a long time ago not to accept 'No' from him," says Ed St. Clair, Andrew's dad. "We decided he's not going to fail. It's taken parent involvement and it's taken loads of cooperation from some outstanding teachers. We've all been very fortunate."

Fact is, Andrew's education couldn't have been completed without Ed. You want to talk about parental commitment? For the past eight years, Andrew's dad has attended every college class with his son.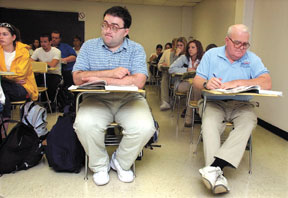 Andrew St. Clair (center) and his dad, Ed St. Clair (right), have attended classes together for eight years at USC. Ed has taken notes and created study plans for his son, who has Sotos syndrome. Andrew will graduate on Saturday and Ed will receive an honorary degree today at the school's annual awards luncheon.
Ed has functioned as the designated note-taker (Sotos often greatly impairs small-motor skills, such as writing) and also put together countless detailed Power Point presentations and question-and-answer study guides for his son, who learns best by visual means, to use at home. They have read and reread the lessons together nearly every day for the past 16 semesters.
"He's my personal hero," Liliane says of her husband.
Actually, Ed did drop out of one of Andrew's classes: algebra.
"Algebra was horrible," Ed says. "I figured it would be a snap - I'm a (retired U.S. Army) engineer, and I took algebra 50 years ago. But I was frustrated to find the algebra they teach today is different than what I learned."
So Andrew received help from a paid tutor in math - but otherwise, Ed was his son's constant companion on campus. They took history. They took English. They took geography. They took music theory. They took German. They took art appreciation. They took everything together except for Andrew's hands-on music-performance classes.
"There wasn't a class I disliked," says Ed. "The teachers all accepted me, and even more surprising, the students accepted me."
And the university noticed. Ed will be saluted as an honorary graduate today at the school's year-end awards luncheon. "Their family is incredible," says Jacob Chi, USC music professor and director of the Pueblo Symphony, with which Andrew, a percussionist, has performed since he was a senior in high school. "Their family values are wonderful - they are true role models.
"(Andrew) works very hard, very diligently. I never treated him differently, not even in (conducting class), which is overall the most difficult. In the first semester I taught him, he didn't get a very good grade, but now, I don't have a problem giving him an A. He earns it. What he's done, not just in music but in all the other disciplines, is quite an accomplishment."
With the final grades still to be posted, Andrew was hopeful that he'd be on USC's dean's list for a fifth consecutive semester - a ranking that requires a minimum 3.50 grade-point average.
"He's flirting with honors, but it's gonna be close," Ed says.
Either way, Andrew says he's looking forward to graduating with the last USC class (the school will become Colorado State University-Pueblo this summer).
"I will be honored," he says.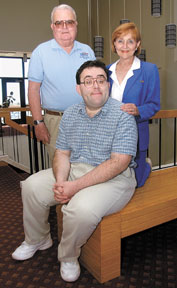 The St. Clairs - Andrew (seated) and his parents, Ed and Liliane - have successfully worked together to deal with the effects of Sotos syndrome, a genetic disorder that has affected Andrew since birth.
Sotos from the start
Like many affected by Sotos syndrome, Andrew is a bit of an enigma.
He's an awesome speller, but he had to take special-education English classes in high school.
He can drive a golf ball 300 yards, but he can't drive a car (depth perception problems, his dad says).
He's a talented, confident musician who has mastered more than a dozen instruments, but he's impatient and easily startled by unexpected noises.
"There are peaks and valleys," Liliane says. "He has areas of extraordinary expertise, like computers - if I get stuck, he tells me what to do. And music - the former conductor of the symphony said she knew she could give him a score in the morning and expect to hear it flawlessly performed in that evening's performance. And he's expert in math. He does in his head what I have to write down on paper.
"But socially, it's been difficult for him."
Delayed social development is a hallmark of Sotos syndrome, an overgrowth condition that is also known as cerebral gigantism (because the affected children usually have large heads). The kids develop physically at a rapid rate during their formative years, but suffer from slowed motor, cognitive and social development.
The developmental delays are usually in the 2-to-4-year range and continue throughout childhood.
"So you might have a child who is 10 years old on his birth certificate but who is very tall and big and looks like a 14-year-old. But he has the reasoning, thinking and problem-solving abilities of maybe a 7-year-old child," Liliane says.
"That gap continues until the young-adult years. They say that when the Sotos kids get to high school, what you see is what you get."
By necessity, the St. Clairs have become extremely knowledgeable about the little-known syndrome, which was first identified by Dr. Juan Sotos in the 1960s. They are active members (Ed is the president) in the Sotos syndrome Support Association, an international group that does its best to answer questions and give advice to parents of children who have been diagnosed with the condition.
Because it's such a rare disorder - there are 1,000 confirmed cases worldwide - there remains much to learn, including why it occurs. A team of Japanese scientists thinks it has identified the gene mutation that causes Sotos, but the discovery has not been verified.
The foremost Sotos experts (doctors in Birmingham, Ala., England and Lincoln, Neb.) think that the syndrome appears in the first two or three months of gestation, when the brain is formed.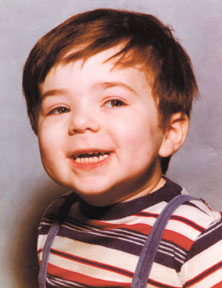 Andrew showed few signs of Sotos syndrome until he was about 2 years old.
The St. Clairs say they had no clue that Andrew was born with the disorder. The couple's third son was large at birth - 11 pounds, 3 ounces and 23 inches long - but Liliane says he was a "wonderful little baby" who didn't have any significant developmental delays.
But by the time Andrew was 2 years old, his mother was concerned that there was something wrong. He was a little slow in learning to walk and was talking very little. And, looking back, Liliane says there was another clue: Andrew didn't crawl.
"And crawling is an important part of right-brain, left-brain development," she says.
Doctors in Germany, where Ed was working for the Army Corps of Engineers, suspected that Andrew might have Sotos, but they couldn't say for sure. When the family moved to Pueblo (Ed was facilities engineer at Pueblo Chemical Depot), they took 4-year-old Andrew to various doctors, had his hearing checked (it was fine) and started him on speech therapy. It was apparent to Liliane that her son was developmentally challenged, but Ed remained in denial.
"It was, 'Don't tell me there's something wrong with my kid - that's just not possible,' " Ed says.
But when Andrew was 10, doctors in Denver confirmed the Sotos diagnosis.
"They said, 'Yeah, it's Sotos syndrome. No, we don't know what causes it. No, we don't know what to do. Thank you for coming. Goodbye,' " Ed says.
So the St. Clairs continued to educate themselves about Sotos. They talked to the experts, they made sure Andrew's teachers were aware of his learning strengths and weaknesses - and they did their best to make life normal for a youngster who was always the biggest, tallest and most socially immature kid in his class.
They made sure he stayed in District 60's mainstream programs whenever possible (he took special-ed physical education and English) and worked closely with a succession of supportive teachers, counselors and administrators at Morton Elementary School, Freed Middle School and Centennial High School. He graduated from Centennial in 1995 and, with assistance from the district's Transition program, started at USC that fall.
"We always believed in pushing him to reach just a little above his comfort level," says Liliane.
It worked. Andrew held his own in the classroom - and he discovered a special aptitude for music along the way. He took piano lessons in the fifth grade, played percussion instruments in the Freed concert band, performed in the local youth symphony, graduated to the Pueblo Symphony and has been drumming, clanging and pounding away ever since.
"It took me a little while to get used to (percussion), but eventually I liked it," Andrew says.
Mike DeLuca, who was the band director at Freed and introduced Andrew to the drums, says the youngster was a natural.
"He's very mathematical, and counting rhythms and subdividing beats came very, very easy to him," says DeLuca, now the visual and performing arts specialist for the school district. "He performed at a high level - and he was accepted well by the other kids in the band."
As his musical skills grew (his specialties include marimba, vibraphone, xylophone and timpani), Andrew's self-confidence also expanded. And by the time he was a senior in high school, the idea of continuing his education became a realistic option.
The natural choice seemed to be Pueblo Community College, which had a tuition-free arrangement for students in the D60 Transition program. Just one problem: PCC offered no music classes. But USC did.
And with encouragement and support from then-symphony director Marci La Reau, District 60 and his family, Andrew enrolled at the university and began pursuing his dream of a diploma.
Into the future
Each morning, Andrew greets his mother the same way.
"This is going to be a great day," he says. And he means it.
"He has certain qualities that are absolutely remarkable," Liliane says. "One is his sense of humor, the other is his positive attitude. . . .If you have a positive attitude, then it's easier to deal with the adversity that comes at you from all directions. You don't have to react with, 'Oh gosh, what's going to happen to me.' It's a survival skill."
Andrew, now 6-foot-2 1/2 with a linebacker's size, has come a long way. He has learned to handle his frustration and anger in socially acceptable manners, rather than by physical outbursts, which are typical of those affected by Sotos. He has completed his senior recital. He still enjoys playing classic video games (Asteroids is his favorite) and hitting the golf ball with his dad. He vows to learn how to drive. And after graduation, he'll start looking for a job.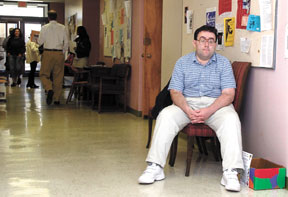 Andrew St. Clair waits for his next class as he sits in the hall in the Art/Music Building at USC.
But Andrew's future is uncertain, and the St. Clairs know it. The experts say that Sotos adults will likely always need assisted living - so far, there's been only one case of a woman with the syndrome living on her own.
"That's a frustration - we don't know what the future is going to bring," says Ed. "They say he'll always need assisted living, but that doesn't mean he can't carry a job, and we're working with Colorado Vocational Rehab on that.
"But I know that 1 in 100 gets a job and makes a living in music - and we're in the wrong place for that."
Perhaps. Perhaps not.
Andrew, the soon-to-be college grad, has another idea. And another goal.
"I still love music a lot," he says. "What I want to do is teach music. It's a long shot, but I want to continue with music. It's helped me."
---
Click here for local News, Sports and more delivered to your doorstep daily!

E-mail this story


Print this story